The 1024 element diode array detector coupled with a flash xenon lamp results in a long life, robust spectrophotometer. Covered by a two-year warranty which includes the xenon lamp. The Nucleic Acids measurement mode can be used to quantify the concentration and purity of dsDNA, ssDNA, RNA and oligonucleotides; using wavelengths recorded at 260, 280 and 230nm, with an optional correction at 320nm. The concentration is calculated along with the corresponding ratios. At the touch of a button it is easy to check the purity of the nucleic acids. This is done by identifying distorted peaks in the purity scan between 200 and 350nm. This is especially useful for RNA samples where impurities maybe present at 230nm, but cannot be detected using the 260/ 280nm ratio measurement.
The Proteins measurement mode can be used to calculate protein concentration by creating standard curves from protein assay kits. With pre-programmed methods for measuring Bradford, Lowry, Biuret and Bicinchoninic Acid (BCA) assays; up to 6 standards can be measured with 3 replicates of each standard to minimise any dilution errors. The Proteins measurement mode is also pre-programmed with the Direct UV and Warburg-Christian methods to determine protein purity.
The Genova Bio has a pre-programmed method for measuring optical density of bacterial cultures such as E.Coli and yeast cells. This is ideal to measure cell growth before cell harvesting. As well as these pre-programmed methods this versatile spectrophotometer has measurement modes for simple photometrics, concentration, quantitation, spectrum scanning and kinetics. Enabling measurements to be performed at any selected wavelength between 198 to 800nm.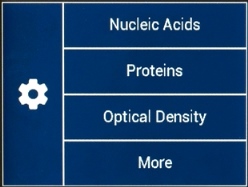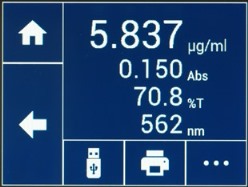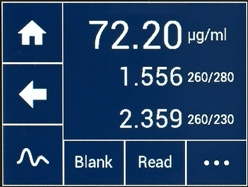 | Wavelength Range | 198 to 800nm |
| --- | --- |
| Wavelength Accuracy | ± 2nm |
| Wavelength Repeatability | ± 2nm |
| Spectral Bandwidth | 3nm |
| Absorbance Range | - 0.300 to 2.500A |
| Absorbance Accuracy | ± 0.01A at 1.0A and 546nm |
| Absorbance Stability (A) | ± 0.005A/h at 0.04A and 546nm |
| Noise | ± 0.002A at 0.04A and ± 0.02A at 2.0A and 546nm |
| Stray Light at 340nm, %T | < 1%T according to ANSI/ASTM E387- 72 |
| Concentration Range | ± 2500 |
| Concentration Calibration | Blank with a single standard or factor |
| Concentration Factor | ± 1000 |
| Concentration Standard | ± 1000 |
| Optical Density Factor | ± 1000 |
| Quantitation Range | ± 2500 |
| Quantitation Calibration | Blank with up to 6 standards |
| Curve Fit Algorithms | Linear and linear through zero |
| Kinetics Measurement Time | 7 to 9999 seconds |
| Kinetics Number of wavelengths | 3 |
| Kinetics Calibration | Blank with a factor |
| Kinetics Display | Graphical and concentration |
| Kinetics Analysis | Concentration |
| Spectrum Range | 198 to 800nm |
| Spectrum Analysis | Absorbance or % transmittance and up to 50 spectral analysis points |
| Beam Height | 15mm |
| Light Source | Xenon Lamp |
| Results/Method Memory | Limited by attached USB memory stick |
| Removable Media | USB |
| Outputs | USB x 2 |
| Supply voltage/frequency | 100 - 240VAC at 50 to 60Hz |
| Power Supply | 12V DC, 3.8A |
| Size (w x d x h) | 212 x 422 x 120mm |
| Weight | 2.8kg |
| Warranty | 2 years on the instrument, including lamp |